Activity for Education
【Japan-New Zealand
Teachers Interchange】
● Intensive Japanese Language Training Programme for New Zealand Teachers
This is a programme whereby Japanese language teachers in New Zealand are invited to Japan, to enhance their level of proficiency in the Japanese language, by way of an attending an "Intensive Japanese Language Training Course".
With the cooperation of the Japan Foundation's "Japanese Language Institute " (in Rinkutown), and "Asia New Zealand Foundation", KNZC aims to contribute to the promotion of Japanese language teaching in NZ through this training programme.
In 2006, Japan New Zealand Centre cooperated with the Asia New Zealand Foundation invited three New Zealand teachers of the Japanese language to take an Intensive JL training at the Japan Foundation's JLI. . In Addition to the one-week JL course at JLI, the NZ teachers enjoyed one-day tour to Koya-san, visited the local primary school, and had an overnight homestay with the KNZC members' homes which gave them an opportunity to experience the Japanese way ways of life. We welcomed the three NZ teachers as our guest speakers at the KNZC Members Meeting. They spoke about their valuable experiences on this visit.
The costs for this programme are mainly provided by the "Orion Fund" of Asia New Zealand Foundation which is a fund donated by an Japanese national, for the purpose of international exchanges between Japan and New Zealand.

 ******************
The Japan New Zealand Centre would strongly promote this programme from now and onward.
We would like to ask for understanding and support from the individual and the firms
in Japan and New Zealand.
 ******************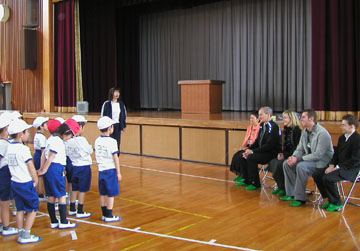 At the local primary school

Photographs reflecting wonderful activities the teachers took part in, such as the socio-cultural programme (Calligraphy and Kimono dressing) etc.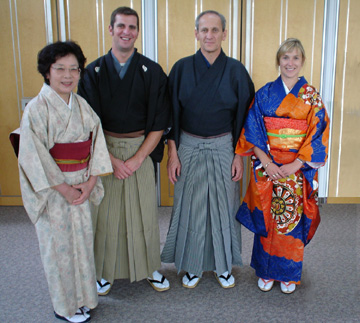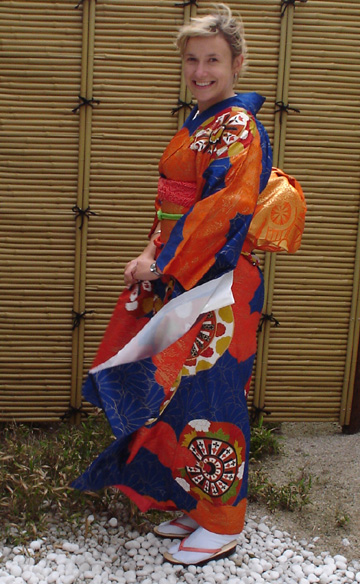 ◆◆◆◆◆◆◆◆◆◆◆◆◆◆◆◆◆◆◆◆
【2007 Intensive JL Training Programme 】
The "Intensive Japanese Language Training Programme for New Zealand Teachers" is supported by the Japan New Zealand Centre ("KNZC") and the Asia New Zealand Foundation ("ANZF"), a Crown entity organization for exchanges. ANZF recruited and selected the New Zealand teachers of Japanese language for this exchange, KNZC coordinates all of the training programmes in full collaboration with the "Japan Foundation Japanese-Language Institute, Kansai", where the programmes are carried out. This year four New Zealand teachers will participate in this13-day programme expanded one week longer than previous year. All of them are looking forward to coming to Japan because it is the first time for them to stay here. We try and offer opportunities for further exchanges between the selected New Zealand teachers and the local people of Kansai, for deepening knowledge on the Japanese culture, and for further promotion of teaching Japanese as a second foreign language in New Zealand.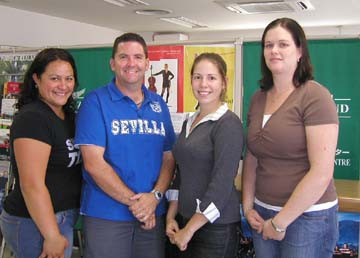 2007 Programme participants; (from left to right)
Ms Joelle Walker (Edgecumbe Primary School)
Mr Darren Kerr (Masterton Intermediate School)
Ms Emily Hartwig (Murrays Bay Intermediate School)
Ms Debra Atkin (Karori Normal School)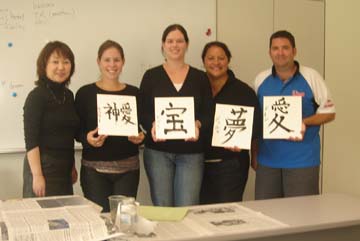 Socio Cultural Programme: Calligraphy class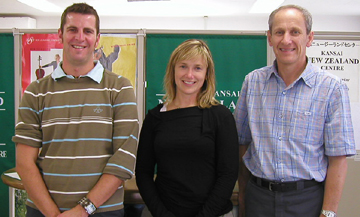 The New Zealand Teachers: (from left to right)
Mr Robert Boomer (Motueka South Elementary School)
Ms Angela Pedder (Raroa Normal Intermediate School)
Mr Mitchell Dieudonne (St Josephs Elementary School)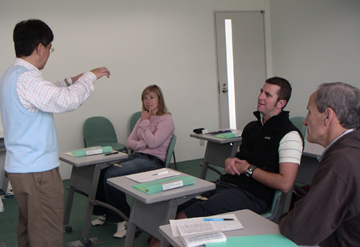 Intensive JL class at Japan Foundation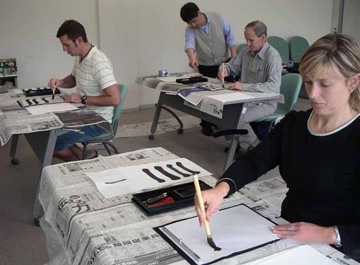 Calligraphy class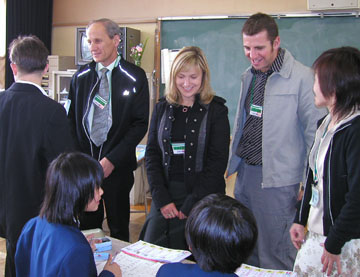 At the local primary school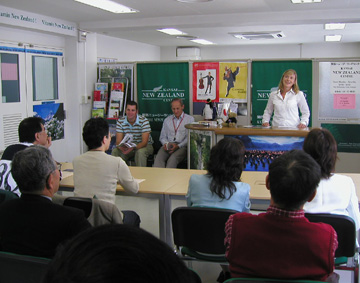 At the KNZC Members'Meeting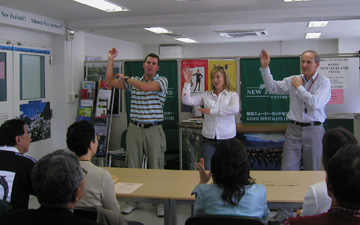 Introducing of "TutiraMai"
by the NZ Teachers
◆◆◆◆◆◆◆◆◆◆◆◆◆◆◆◆◆◆◆◆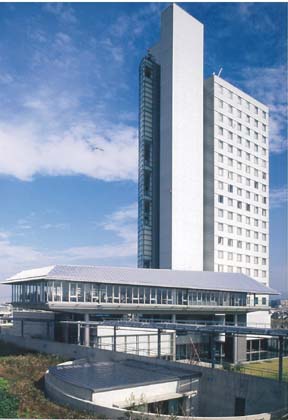 The Japan Foundation Japanese-Language Institute, Kansai

**********************************************************
● 2007 Training Programme  ●
Sat 7 Apr Arrival at KIX & JLI Kansai
Sun 8 Apr  Kyoto Sightseeing Tour
Mon 9- Wed 11 Apr
         Training at JLI Kansai
       incl: Socio-cultural Programme
Thu 12 Apr Osaka Orienteering
Fri 13 Apr Training at JLI Kansai
        Socio-cultural Programme
Sat 14 Apr   KNZC Members' Meeting
         Home Stay
Sun 15 Apr  Home Stay
Mon 16 Apr Home Stay
Mon 16 Apr: pm Training at JLI Kansai
Tue 17 Apr  School Visit
Wed 18 Apr  School Visit
Thu 19 Apr  Leaving from KIX
***********************************************************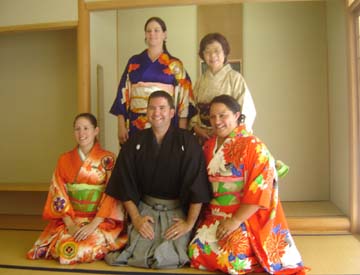 Socio Cultural Progarmme: Kimono dressing class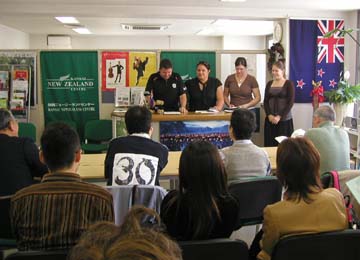 at KNZC members meeting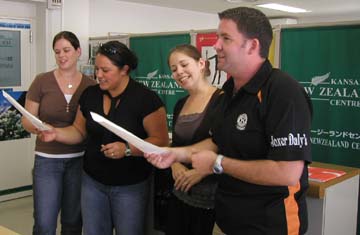 Introducing NZ popular songs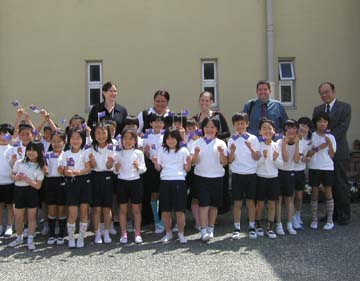 students' welcome with NZ flags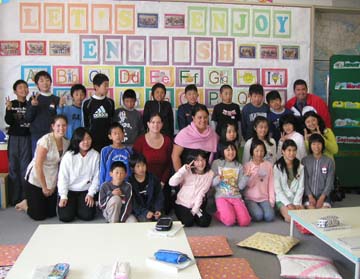 at English lesson class
********************************
【2008 Intensive JL Training Programme 】
********************************
The Kansai New Zealand Centare (KNZC) has welcomed four New Zealand teachers of "The Intensive Japanese Language Training Programme" in 2008.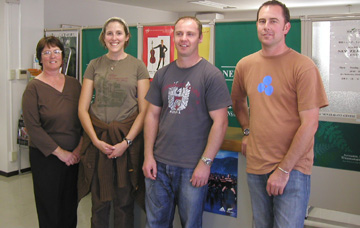 The New Zealand teachers of 2008 programme:
From left:
Ms Nicola Davison, Christchurch
Ms Amber Daley, Hastings
Mr Matthew Burt, Hutt
Mr John Steer, Hutt

The programme is supported by the KNZC and the Asia New Zealand Foundation (ANZF), a crown entity organization for exchange. While the ANZF recruited and selected New Zealand teachers of Japanese language for this exchange, KNZC coordinated all of the training programmes in full collaboration with the Japan Foundation Japanese language Institute Kansai, where the programmes were carried out.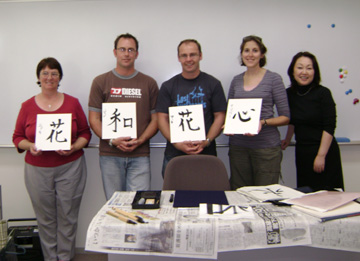 At the Calligraphy class

The Japan Foundation is the specialist of teaching Japanese to the non-native Japanese speakers. Please visit the website of the Japan Foundation as they have put the article of this "Intensive Japanese Language Training Programme for New Zealand Teachers" in it.

The Japan New Zealand Centre would like to continue this programme into the future. We would like to ask you all for your understanding and support in the promotion of this programme.

**********************
Participants comment:
**********************

Ms Nicola Davison :Emmanuel Christian School
This experience has undoubtedly changed my life irrevocably! I determined from the beginning to make the most of every opportunity, and the opportunities have indeed been many, varied and totally rewarding. The over-riding impression of the Japanese people, every one of them, without exception, treated me with the utmost respect and attention. I have been overwhelmedat the kindness shown to me and the sense of connectedness I feel with many of these new "friends". This could never be found in a textbook or even on a DVD. To experience Japan required a response and interaction. I am the richer for this experience.  To the members of KNZC who accompanied us on our Kyoto excursion, and to Yamamoto–san for also showing us around Osaka, I thank you. You were all very patient with us, again listening and sharing, and in doing so inscribing part of yourselves indelibly in our memories. The benefits for me, and for my classes, both present and future, are intangible and immeasurable. Thank you for this amazing experience.


 
Mr Jhon Steere :Hutt Intermediate School
I found this whole experience very rewarding and has not only aided my Japanese teaching ability but has given me added drive to learn about Japan. I found the Japanese people very warm and hospitable and I now class Japan as a place that I look forward to visiting again soon. I have taken back to New Zealand many fond memories and a lot of new ideas and resources to use in my classroom. I enjoyed our school visits and found the Principals, staff and students were all very welcoming. It was great to see Japanese classes in action, especially the grammar lesson, school lunches and the sports clubs. Our day in Kyoto was also very special, from the authentic Japanese lunch and the beautiful sights we saw. It was excellent to see the enthusiasm of the Kansai New Zealand members. My home-stay would have to be my highlight and it was great to experience Japanese home-life with such a wonderful and kind family. I will never forget their generosity and kindness, those memories will last a lifetime. I would like to thank the Kansai NewZealand Centre for the personal touches added throughout our stay in Japan. Your hard work was much appreciated.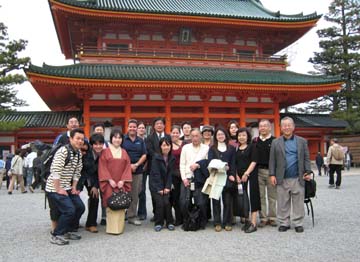 Kyoto sightseeing tour with KNZC members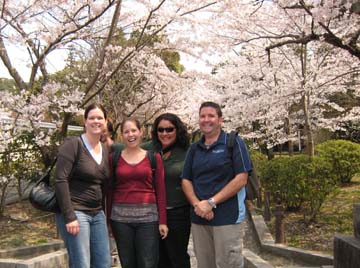 under cherry blossom trees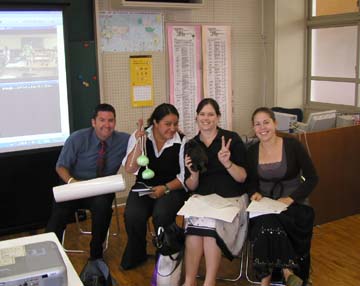 at Video conference class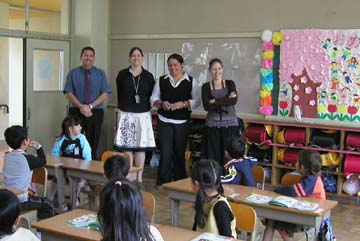 Observing class at the Primary school
◆◆◆◆◆◆◆◆◆◆◆◆◆◆◆◆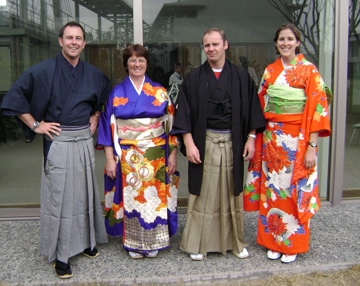 Four New Zealand teachers dressed with Kimono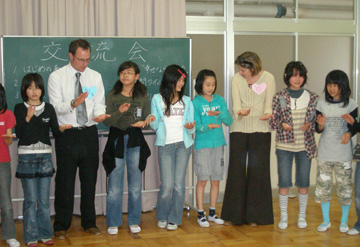 Exchcange with primary students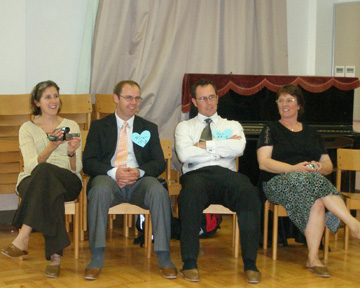 At the primary school visit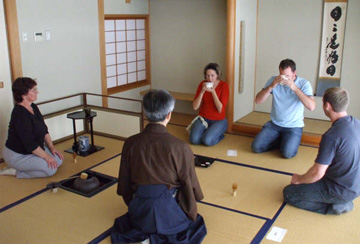 At the tea ceremony class


Ms Amber Daley :Heretaunga Intermediate School
When I first started teaching the Japanese enrichment class at  Heretaunga Intermediate just over a year ago I had  very limited knowledge of the language and culture.  Since then, I have been working to improve my proficiency, and this immersion experience, by far, out does any of the lessons I have studied in books. The teachers here at the center are extremely helpful and patient, and provide a tremendous amount of guidance. They also modeled teaching styles that I can use in my own class.   The cultural experience classes were wonderful. They were all well planned, and very beneficial.  I especially enjoyed the calligraphy class.  I also found the school visits, especially to the elementary school, very enjoyable.  I was extremely impressed by the students discipline and the courtesy they showed to me as a guest in thier school. I was most nervous about the homestay visit, but found that Reiko San and her family went our of their way to make me feel welcome, and I took so much from the two days that I spent with them.  It was so kind of them to take me into thier home and allow me to share thier lifestyle and customs. I could not have had a better way to spend my two week school holidays.  I think this programme is wonderful for Japanese teachers and am so happy to be a part of it. Thank you again, and thank you to all the members of KNZC who took the time to spend with us.

Mr Matthew Burt :Hutt Intermediate School
The Grammar class at the Japanese Language Course really pushed my ability. School visit - The principal was very friendly, very organized and a great introduction to Japanese schools. Loved kyushoku. Osaka orientation was a little short but what I did see was very beautiful and interesting. Kyoto was also very interesting. The traditional Japanese lunch on tatami was a perfect introduction to Japanese food.  Home-stay -I  had a great time experiencing a Japanese family life. Very friendly couple welcoming and generous.  It was very enjoyable. They looked after me very well and made me feel so welcome. I would like to thank you for the personal touches you have added throughout the past two weeks. Your hard work is much much appreciated. KNZC have got a fantastic idea and it is extremely beneficial to both NewZealand & Japan practices.