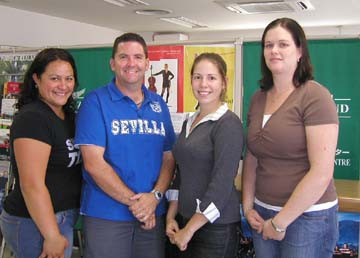 2007 Participants
The New Zealand Teachers: (from left to right)
Ms Joelle Walker (Edgecumbe Primary School)
Mr Darren Kerr (Masterton Intermediate School)
Ms Emily Hartwig (Murrays Bay Intermediate School)
Ms Debra Atkin (Karori Normal School)
◆◆◆◆◆◆◆◆◆◆◆◆◆◆◆◆◆◆◆◆
Mr Darren KERR
Masterton Intermediate School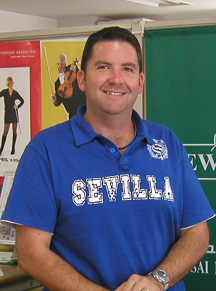 This visit must have been the best experience I have ever had in my teaching career. From the moment we stepped off the plane to the moment we left was incredibly enjoyable. The people are so warming, caring and fun to be around and they ensure that your stay is enjoyable. I visited many places and saw many wonderful things. From the hustle and bustle of the city to the serenity of the temples and shrines helped give me an understanding of the Japanese way of life and culture. The staff and teachers at the Kansai center made learning enjoyable and helped progress me at a level that was achievable and helped to improve my knowledge and ability in Nihongo. They also made being away from family so much more bearable. The Kansai New Zealand Center staff are great ambassadors for New Zealand and the centre is a must visit when in Osaka to help remind you of home and to realise that in Japan there is a huge passion for New Zealand. My host family stay was another highlight of my trip and I have build an extremely strong relationship with two complete strangers in 2 days....something that still amazes me. Japan is a place that has a place in my heart and it is its people that give it is strength, vibrance and warmth. I will be back again in Japan and I cannot wait until I return and visit my second home and family again. Doomo arigatou gozaimasu.

**************************************
Ms Debra Atkin
Karori Normal School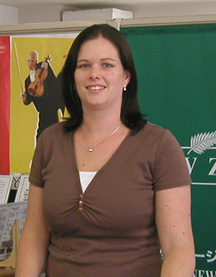 Wow! This has been one fantastic overseas experience and professional development. I cannot believe how fast the two weeks has gone. While in Osaka , I have been fortunate enough to experience many spectacular things, from sightseeing in Kyoto and Osaka to life in a traditional Japanese home. Every experience has taken my breath away! The cherry blossoms are beautiful and to see them in full blossom throughout Osaka is truely something spectacular - this has to be the highlight of my trip! The teachers at The Japan Foundation and Ms. Tegoshi at the KNZC have been extremely welcoming and very imformative. It has been very rewarding to see my knowledge of the Japanese language and culture strengthen throughout my time here and I am leaving with some fantastic resources and ideas for both my classroom and my own development of the language. I can`t wait to get home to utilise my new skills and vocabulary. I have gained a huge sense of pride for the culture of Japan and feel honoured to have participated in the wearing of Kimono, Shodo and a traditional tea ceremony. My students will enjoy the stories and resources I have to share with them! I also thoroughly enjoyed the school visits and felt privileged to be able to see inside a few Japanese primary and intermediate schools. Life in Japan is so different to Life in NZ yet we are united together through happiness, laughter, life experiences and the eagerness to learn about each others culture. Thank you KNZC for allowing me this once in a life time opportunity. The wonderful professional development I have received and the Japanese friends I have made will remain strong memories forever. It is an honour to have been chosen to participate in such a fantastic course and I hope one day in the near future to visit Japan again. Thank you to everybody who has been involved with this trip. I will have some fish and chips and hokey pokey ice cream ready and waiting for when you visit me in NZ soon!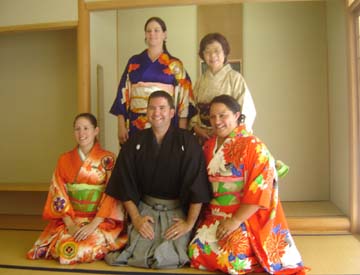 at the Kimono Dressing Class
◆◆◆◆◆◆◆◆◆◆◆◆◆◆◆◆◆◆◆◆

Ms Joelle Walker
Edgecumbe Primary School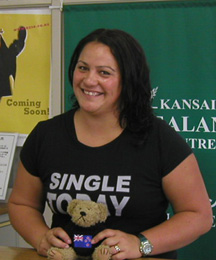 I have been here for only a short time, but it feels like I have known the people I have had the pleasure of working with, for a lifetime. New friendships have been forged, and cultural ties strengthened. It has been a whirlwind tour of the Japanese language and culture and at times it has felt like pop star status. Such a busy programme schedule all running like a well oiled machine, though still within the boundries of grace and poise. I came to Japan with my eyes wide open and the cultural and lingustic challenges presented to me did not seem so big, with such a supportive network of people working around me. I acknowledge my colleagues I have travelled here with, The Japan Foundation, Japan New Zealand Centre and Asia New Zealand. Through the guidance and support of those affore mentioned I have had the oppourtunity to be immersed in and experience Japanese Culture and language. I know already that my own teaching and those I work with, will be richer because of this oppourtunity. The school visits were deffinately a highlight. Observing programmes and meeting and conversing with staff and students was great. There was always the feeling of mutual eagerness to learn. Another highlight was my homestay. My initial feelings of reluctance were soon dispersed by the overwhelming generosity of my host familily. Mr and Mrs Yamamoto, ka nui te mihi aroha ki a korua. The cultural classes (tea ceremony, shodo, kimono) was also another favourite. The oppourtunity to experience these components of Japanese culture was an honour. I realised that there was a deeper meaning, to these, and was able to draw similar corrolations in this sense, to that of my own culture. I am glad to have been given the oppourtunity and in a way a little sad to be leaving. But this is not good bye, just see you again soon.
**************************************

Ms Emily Hartwig
Murrays Bay Intermediate School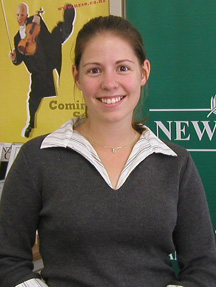 My experience in Japan has been truely amazing. There is no better way to experience a culture than to be immersed in it. The language is incredible, the people so friendly and the food, divine. From the first night we arrived, everyone we have met has been so kind and gone out of their way to help us. The language I have learnt here has blown me away and that is thanks to the great support and guidance we received at the Japan Foundation Language Institiute. The members of the Japan New Zealand Centre made us feel at home, both on our trip to Kyoto to see the breathtaking cherry blossoms and at the meeting a week later. I cannot thank my host family enough for opening their home to me. I thouroughly enjoyed the opportunities to try on kimonos and experiene a green tea ceremony. Although challenging, calligraphy was my favourite, being a great way to practice patience! I will hang my plaque with pride. Our time in Japan has flown by, but I will go home with fond memories and a greater understanding of the people behind the language. I am extremely grateful to have been given this opportunity. I cannot wait to return!