Activity for Education
●"Guest Teacher" Programme
KNZC Guest Teacher:
In New Zealand, Japanese language is taught at approx 80% of its secondary schools. KNZC is promoting activities to send volunteer teachers of Japanese language to New Zealand offering them opportunities to see how Japanese is taught at schools in the English speaking country and experience actual classes in NZ schools with formal permissions from NZ schools.
This programme is also informative as a training for Japanese teachers. We trust it is truly valuable for them to observe lively NZ students in school classes. On the other hand, there are also opportunities to teach Japanese language to NZ citizens also as an intercitizens exchange like a culture school for citizens in NZ. Certain English conversation ability is required in this activity as well.
KNZC will further cooperate with the NZ side and positively promote the guest teacher programme in the both ways, i.e., for teachers in Japan and for KNZC members with English conversation ability and interest in education of Japanese language.
●"Internship" Programme
KNZC coordinate "Internship" offering Japanese students opportunities to work in NZ companies. Such working experiences with NZ people in the English speaking country will be an irreplaceably precious experiences obtainable before leaving schools for Japanese youths.
In September 2005, we sent a university student from KNZC members to BioScience Research Lab at National University of Waikato. KNZC will promote "Internship" programme for Japanese students with cooperation from organizations related to NZ.
●Japan-New Zealand Schools Interchanges
KNZC coordinate educational tours on a school or class basis between Japan and New Zealand schools to promote interchanges.
Upon requests from a NZ school, KNZC coordinated a Japanese accepter school for an education tour to Japan of a group of 10 students (with NZ 3 teachers). The NZ group had precious experiences attending classes at the accepter school in Japan, participated in a sports day while staying at students' families of the Japanese school. KNZC will support educational exchanges for schools and classes between Japan and New Zealand.
    ◆◆◆◆◆◆◆◆◆◆◆◆◆◆◆◆◆◆◆◆
【Japan-New Zealand Teachers Interchange】
● Visiting Tours to NZ Schools by JapaneseTeachers
In New Zealand ("NZ"), Japanese language is taught at approx 80% of its secondary schools. The content of classes in NZ schools is largely different to those in Japan, - for example, teachers and students engage together in interesting, interactive, two-way discussions and exchanges, which are of great interest.
One of the Japanese teachers who observed classes in NZ school expressed her impressions by saying, "Just by sitting in a class and observing the classroom in action, tells us an awful lot. It is my strong wish for more Japanese teachers to visit NZ schools."
KNZC offers opportunities for teachers in Japan to visit NZ and observe NZ educational sites, to exchange opinions and points of view with NZ teachers, and to promote activities for further interchanges between Japanese and NZ teachers.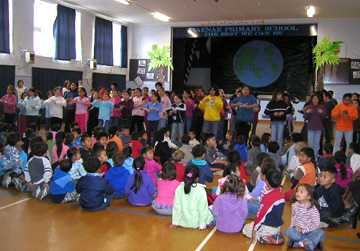 >>and more
● Intensive Japanese Language Training Programme for New Zealand Teachers
This is a programme whereby Japanese language teachers in NZ are invited to Japan, to enhance their level of proficiency in the Japanese language, by way of an attending an "Intensive Japanese Language Training Course".
With the cooperation of the Japan Foundation's "Japanese Language Training Centre" (in Rinkutown), and "Asia New Zealand Foundation", KNZC aims to contribute to the promotion of Japanese language teaching in NZ through this training programme.
>>and more