Activity for Education
【Japan-New Zealand Teachers Interchange】
● Visiting Tours to NZ Schools by JapaneseTeachers
In New Zealand ("NZ"), Japanese language is taught at approx 80% of its secondary schools. The content of classes in NZ schools is largely different to those in Japan, - for example, teachers and students engage together in interesting, interactive, two-way discussions and exchanges, which are of great interest.
One of the Japanese teachers who observed classes in NZ school expressed her impressions by saying, "Just by sitting in a class and observing the classroom in action, tells us an awful lot. It is my strong wish for more Japanese teachers to visit NZ schools."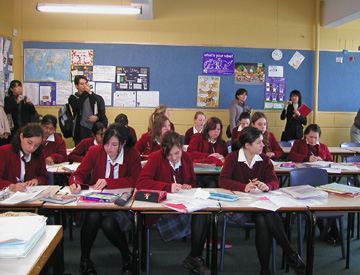 Classroom visited by the participants
KNZC offers opportunities for teachers in Japan to visit NZ and observe NZ educational sites, to exchange opinions and points of view with NZ teachers, and to promote activities for further interchanges between Japanese and NZ teachers.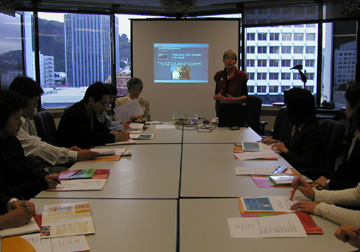 At the Ministry of Education

KNZC implemented the Japanese teachers' "Visit NZ Class" Programme in summer 2006.
This programme was acknowledged by the following organisations:
the Osaka Prefecture Education Board,
Osaka City Education Board,
the New Zealand Embassy in Tokyo,
Osaka Foundation of International Exchange,
and was also supported by Asia New Zealand Foundation and the Hutt City Council.
The highlights of this programme were the chance to observe NZ classes in progress, where New Zealand teachers and students were engaging together in interesting interactive discussions, Japanese teachers' exchanging opinions with New Zealand teachers and another highlight was the briefings on the New Zealand educational system by given by four staff from the New Zealand Ministry of Education.
We received high appraisal from all the teachers who participated in the programme. We would like to recommend this programme to all Japanese teachers and to people who are interested in education generally.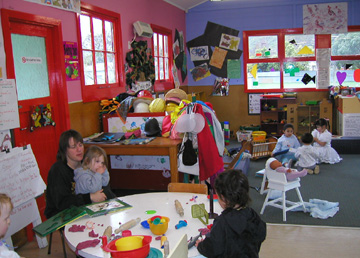 Play Centre: New Zeland unique child care centre
◆◆◆◆◆◆◆◆◆◆◆◆◆◆◆◆◆◆◆◆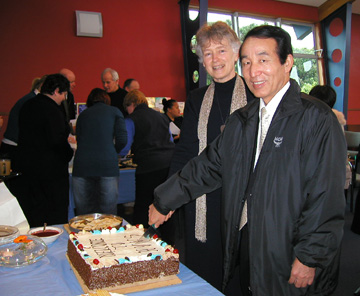 Cake-cut by Japan/New Zealand principals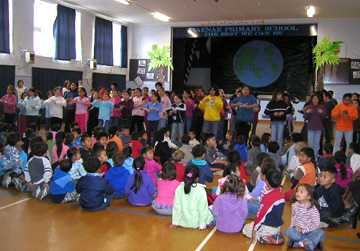 Children welcomed the group
with their songs and dance perforamance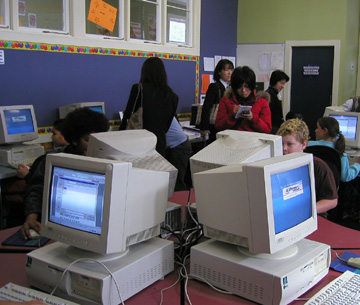 Exchanging informative ideas with
the New Zealand teachers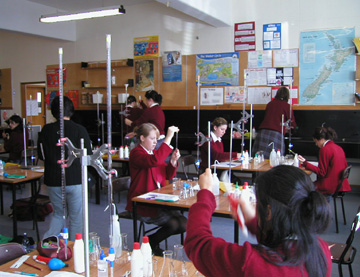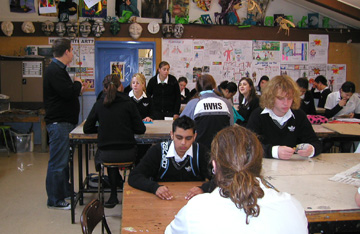 Classroom visited by the participants
◆◆◆◆◆◆◆◆◆◆◆◆◆◆◆◆◆◆◆◆