Intercitizens Activities
●KNZC Reference Room:
"A Base to dispatch Information on New Zealand"
The Centre's Reference Room is an open base of resources and information on New Zealand, freely accessible to all.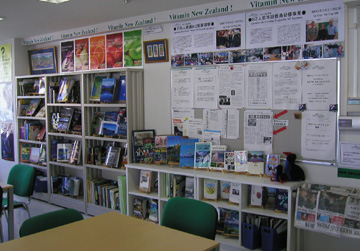 ◆Books on New Zealand
◆School Textbooks
◆NZ Newspapers, magazines
◆Telephone directories covering all area of New Zealand
◆Brochures contributed by the New Zealand Embassy
◆Brochures of Asia New Zealand Foundation
◆Brochures of New Zealand local government and public organisations etc
◆Brochures of New Zealand local government and public organisations etc
◆"Eat your colours everyday" posters
These posters are put on at the primary schools in New Zealand used for a Multi-Curricular Nutrition Resource for primary schools in New Zealand.
●Members' Meetings
The Kansai New Zealand Centre hosts "KNZC Members' Meetings" in order to provide a place for exchange between Japanese members who hold an affection for New Zealand. KNZC invites New Zealanders staying in Kansai to be speakers, and such New Zealanders gladly accept KNZC's request to speak. Our Japanese members also highly appreciate such opportunities, often saying "How woderful it is to hear frank stories from New Zealanders". Thanks to such support and appriciation, KNZC would like to express our sincere gratitude to those New Zealanders who have kindly cooperated. We would like to continue hosting Members Meetings long into the future.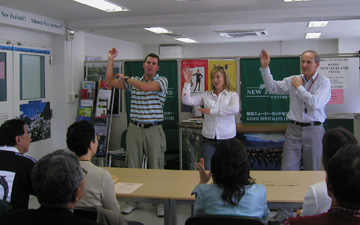 >>and more
● New Zealand Ambassador's Reception at KNZC:
On 5th April 2005, a welcome party for the New Zealand Trade Minister, Jim Sutton's visit to Japan was held in this reference room inviting people from sister cities in Kansai and friendly bodies, hosted by the New Zealand Ambassador.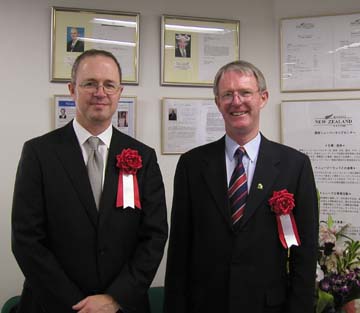 >>and more
● New Zealand Children's Art Work Exhibition
We asked the Hutt City Council to cooperate with us to exhibite the children's art works in this region. The City Council was happy to oblige us and we have received 16 pieces of art by children who accepted our request. Their art works are now being exhibitted in our reference room. We are also planning to lend the works to Japanese schools.
>>and more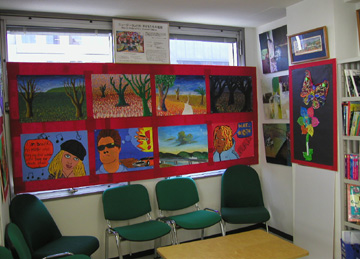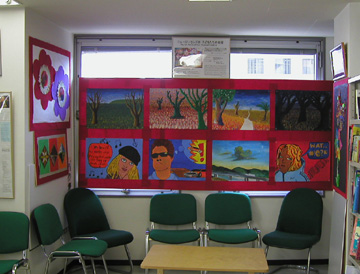 At the KNZC reference room