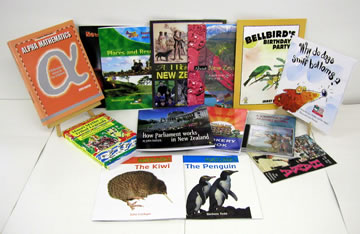 The Japan New Zealand Centre's "New Zealand Kits" are now available to schools for loan. They contain books and textbooks actually used in New Zealand schools, as well as wallcharts, soft toys, a flag, a video, and much more.
These kits have been created with the cooperation of the New Zealand Embassy and the Asia New Zealand Foundation, and are ideal tools for teaching Japanese students about New Zealand and fostering international understanding.

If you wish to borrow one from us, please read the lending conditions below, then download, fill the form and fax it to :06-6944-3512.

Kits lent by the Japan New Zealand Centre must be returned to the following address:

Japan New Zealand Centre
8F Osaka Organ Bldg,
1-4-2 Tanimachi,
Chuo-ku, Osaka 540-0012
Tel: 06 6944 3511
Fax: 06 6944 3512
Email: info@knzc.jp
Homepage: http://www.knzc.jp



Lending Conditions
The return date is the day after the last day of the lending period stated by the user on the application form.
This kit is loaned out as a set. Borrowing certain materials only is not possible- please borrow and return the entire kit.
All delivery costs to and from the Japan New Zealand Centre will be born by the user. The kit will be sent by courier (takkyubin), postage paid on delivery (chakubarai).
The kit must be returned on time, either in person, by courier only. Videos must be rewound and returned to their correct cases.
In the event that the kit becomes lost or damaged, the user must compensate the Centre as appropriate.
If items are used in a publication, please provide two copies for our reference.
The New Zealand Kit is available for loan to schools & universities (primary/ elementary schools, junior and senior high schools, universities) only.
The kit can be borrowed for up to three weeks.
| | | |
| --- | --- | --- |
| | | |
| | | |
| --- | --- | --- |
| | | |
New Zealand Kit Contents
ニュージーランド概要の本:Books on New Zealand
1. About New Zealand
2. A History of NEW ZEALAND
3. How Parliament works in NZ
4. Nature Kids, The Kiwi
5. Nature Kids, The Penguin
6. Bellbird's Birthday Party
7. Why do dogs sniff bottoms ?
8. Edmonds Cookery Book
9. The Story of Haka
10. A Century of Maori Song
11. (CD) A Century of Maori Song
NZ全般についての本
NZの歴史についての本
NZの政治についての本
NZ国鳥キーウィについての本
NZのペンギンについての本
NZの児童本
NZの児童本
NZの料理本
「ハカ」についての本
マオリの代表的な曲の本
マオリの代表的な曲のCD
ニュージーランドの学校の教科書:School Textbooks
《1》  Alpha Mathematics
《2》  New Millenium Science Book 1
《3》  Essential Learning About NZ Society
《4》  Maori Myths & Tribal Legends
NZ中1教科書・数学
NZ中1教科書・科学
NZ中1教科書・社会
NZ中1教科書・先住民族理解
壁掛け図表:Wallcharts
[1]  New Zealand Birds 1
[2]  New Zealand Birds 2 ( Shore & Wetland )
[3]  Coastal Fishes of NZ - large fish
[4]  New Zealand Rocky Shore
[5]  NZ Whole Map, Aotearoa
[6]  Kiwi Times Tables
NZ鳥類のチャート
NZ海岸・湿地帯の鳥類のチャート
NZ沿岸の大型魚類のチャート
NZ磯の生物のチャート
NZ全土の地図
NZ九九表のチャート
その他:Other Items
【1】  NZ Flag
【2】  Rugby Jersey
【3】  Soft Toy : Kiwi
【4】  Soft Toy : Fiordland Crested Penguin
【5】  Drink Bottle
【6】  School Bag
【7】  Carry Bag
NZ国旗
ラグビージャージー
NZ国鳥・キーウィのぬいぐるみ
NZペンギンのぬいぐるみ
NZの水筒
NZのスクールバッグ
NZのスポーツバッグ
| | | |
| --- | --- | --- |
| | | |
◆ Items contributed by the New Zealand Embassy ◆
( 1 )  Video: "Kiwi Country New Zealand"
( 2 )   "About New Zealand"
( 3 )  " New Zealand in Outline"
ニュージーランド紹介ビデオ (60分)
ニュージーランド案内
ニュージーランドの概要
(2) (3): by NZ Ministry of Foreign Affairs and Trade  ニュージーランド外務省発行の資料